Every community looks to find it's claim to fame and Lake Oswego's, beside beautiful homes and top-notch schools, can be found in one of its most famous residents, William Stafford.
William Stafford, born in 1914, lived in Lake Oswego from 1957 until his death in 1993. He was a professor of English at Lewis and Clark College and was world renowned as a poet. In 50 years of writing poetry, which he didn't begin doing until his 40's, he is estimated to have written 22,000 poems of which 3,000 were published. In 1970 he was named Consultant in Poetry to the Library of Congress, a position that today would be the equivalent of being the U.S. Poet Laureate. In 1975 he was named the Poet Laureate for the State of Oregon.
You will find tributes to William Stafford throughout Lake Oswego. In the various parks around town you will find inscriptions of his poems, a walkway named after him, and lovely renderings that pay tribute to his creative genius. I am a huge fan of his work. Absolutely one of my favorite places is the William Stafford path in Foothills Park that culminates in the stone circle that bears his work.
Today I want to introduce you to William Stafford and share with you a few of his poems:
Why I Am Happy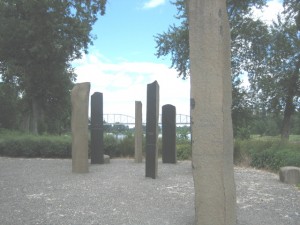 Now has come, an easy time. I let it
roll. There is a lake somewhere
so blue and far nobody owns it.
A wind comes by and a willow listens
gracefully.
I hear all this, every summer. I laugh
and cry for every turn of the world,
its terribly cold, innocent spin.
That lake stays blue and free; it goes
on and on.
And I know where it is.
Little Rooms
I rock high in the oak-secure, big branches-
at home while darkness comes. It gets lonely up here
as lights needle forth below, through airy space.
Tinkling dishwashing noises drift up, and a faint
smooth gush of air through leaves, cool evening
moving out over the earth. Our town leans farther
away, and I ride through the arch toward midnight,
holding on, listening, hearing deep roots grow.
There are rooms in a life, apart from others, rich
with whatever happens, a glimpse of moon, a breeze.
You who come years from now to this brief spell
of nothing that was mine: the open, slow passing
of time was a gift going by. I have put my hand out
on the mane of the wind,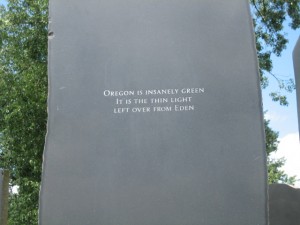 to give it to you.
And, finally, my favorite:
The Way It Is
There's a thread you follow. It goes among
things that change. But it doesn't change.
People wonder about what you are pursuing.
You have to explain about the thread.
But it is hard for others to see.
While you hold it you can't get lost.
Tragedies happen; people get hurt
or die; and you suffer and get old.
Nothing you do can stop time's unfolding.
You don't ever let go of the thread.
Thanks for letting me share William Stafford with you. I hope you enjoy his work as much as I do.
Dianne