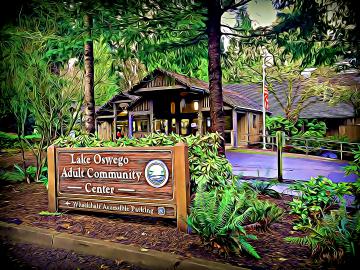 We are fortunate, here in Lake Oswego, to have a terrific Adult Community Center. Catering to the needs of the 55 and older community. There is a huge variety of services and actifities that are offered.
Monday, Wednesday, and Friday, a hot meal is served between 11:30 and 12:30. The suggested donation is $4 for those 60 and older, $5 for all otheres.
Meals on Wheels is also operated on Monday, Wednesday and Friday with hot meals delivered to peoples homes. The suggested donation is $4.
The center also offers variety of consulting to aid families make arrangements for aging relatives. They offer the cosulting at their facility, but they will also come to your home. When my mother went into hospice, it was the Adult Community Center that I called to get advice on hiring in-home care.
They also offer legal adice, by appointment. The consultation is for 30 minutes and it is free.
Then there is all of the fun stuff to do: Muh Jongg, Pinochle, Scrabble, and Bridge. Exercise and wellness classes are regularly offered. And they have a wonderful program called Conversation on Aging to help you make decisions about how you want your elder years to look and how to get them most out of them.
The past several months the facility has been in the process of remodeling. It is now complete and a celebratory open house is being held this Thursday, the 10th, from 5:30 to 7:00pm. Complimentory wine and hors d'ouvres will be served.
For more information about the Lake Oswego Adult Community Center click here.
Thank you for reading the blotter!
Dianne