In the heart of Lake Oswego is Oswego Lake. I decided that today I'd focus on the homes that are actually on the lake. I'm going to share with you a bit of what I have learned over the years.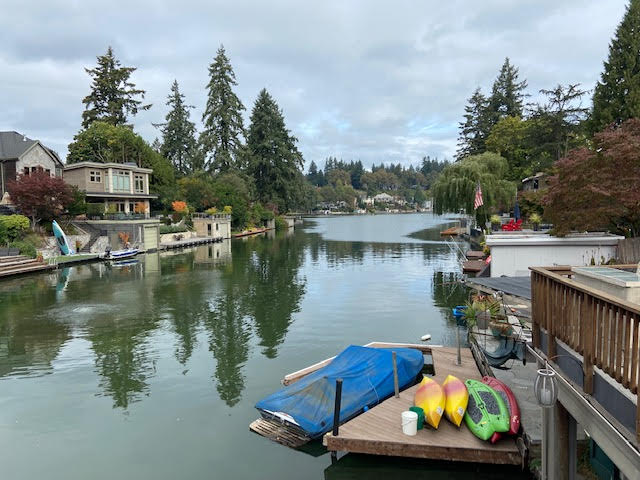 When I got my real estate license in 1987, one of my very first clients was my former boss, and he bought a home on the lake. Over the years I've had the pleasure of working with both buyers and sellers who were involved with properties on Oswego Lake. I've learned a bit about the types of housing and the various waterfront options.
There are actually 3 different waterfront options. There is the lake itself. Oswego Lake is a natural body of water that was enlarged by development. The most valuable homes are on the lake itself. Then there are 2 "bays". The bays are extensions of the lake, but not on the lake itself. There is one at the East end of the lake, Lakewood Bay, and one at the West end of the lake, Westbay. The bays have slightly less value than the main lake, but not by much. Then there are the canals. One of the canals is natural and it is where the water comes into the lake from the Tualatin River. There are two more canals, one at Kelok and one at Blue Heron. The canals are the least expensive of the waterfront homes.
I will also mention that on the main lake, the Northside tends to have higher values than the Southside. This is because the sun exposure is better on the Northside, and the sunlight directly benefits the waterfront exposure. There are a couple of streets on the Southside that pretty much don't get sun exposure at all.
In the last 12 months 47 lake front properties have sold. The least expensive was in the condominiums "Villas on the Lake". It was 1 bedroom, 1 bath, and 636 square feet. It sold for $215,000. These condominiums share a community dock and several of them have boat slips. The most expensive home that sold on the lake was a 6675 square foot home with 4 bedrooms and 5.5 bathrooms. With a gated entry and 100 feet of lake front, it sold for $6,175,000.
I think that the condominiums are a bit on an annomoly because most of the lake front properties are just so much more expensive. The average sales price is $2,388,000.
I hope you've enjoyed this over view. Please let Linda or I know if you have any questions or are interested in learning more.
Dianne