Here is your look at the latest numbers as released by RMLS for the overall Portland area and how Lake Oswego fits in just below.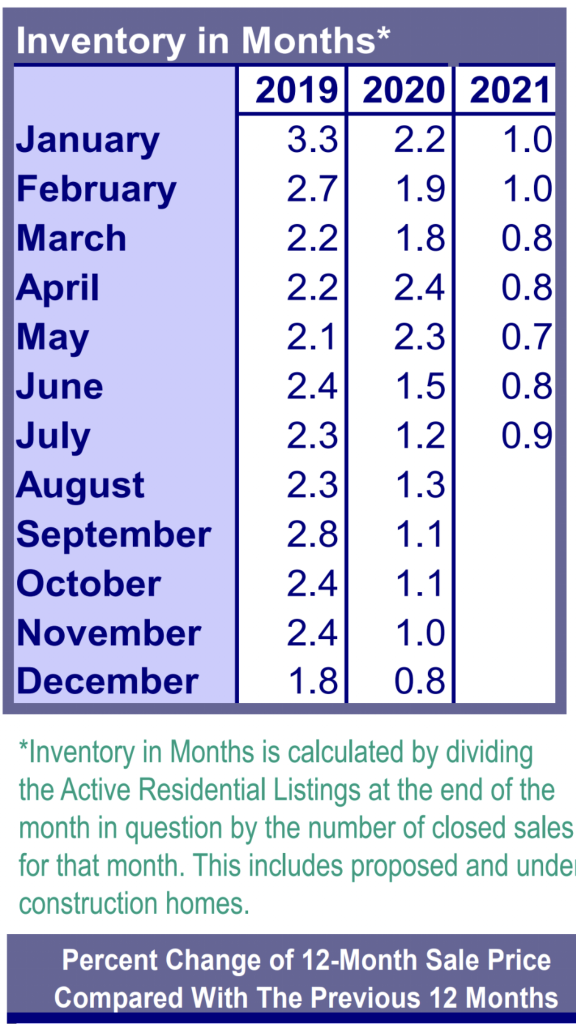 Overview/Fluctuations ~ Market Data July 2021: Things typically start to slow a bit in July. We saw a change in the usual pattern last year with activity pushing through the summer months. This year there is still lots of activity, but for two months in a row we see prices in some areas looking like they *may* be showing signs of jockeying into some kind of stabilization. We'll check again next month.
Inventory rose another .1% in July, so people are perhaps starting to reach the end of their "waiting-to-sell" ropes. We usually see an uptick in the fall after vacations, so again, we'll take a look at the trend next month to see if there really is a pattern developing. If there is… I can only say it's a pretty subdued one. Houses are still hard to come by driving higher prices. Rates are around 3.125%.
According to the RMLS Market Action Report for the Portland Metro Area, July 2021:
There were 4,267 New Listings in July 2021 increasing 0.7% over July 2020's 4,236 and decreasing 0.7% from the previous month/June's 4,298.
At 3,439, July 2021's Closed Sales are up 1.4% from July 2020's 3,391, dropping 1.1% from the previous month/June's total of 3,477
At 3,534, June 2021's Pending Sales decreased 8.3% from July 2020's 3,656, and also dropped 5.1% from the previous month/June's total of 3,534.
The Average Sale Price in July 2021 of $593,100 is up $90,800 from last year/July2020's $502,300, and down $4,000. from the previous month/June's $597,100.
The "Median" Sale Price (the price smack dab in the middle of all sales) in July 2021 of $522,000 rose $77,000 from last year/July 2020's $445,000, and also increased $1,000 from the previous month/June's $521,000.

LAKE OSWEGO:
165 Active Listings (June 146)
214 New Listings (June 262)
177 Pending Sales (June202)
184 Closed Sales (June 229)
Average Sale Price for July: $1,020,600 (June $1,018,100)

NOTE: Higher-Priced vs Lower-Priced Homes Sales can skew the "Average" in any given month. Lake Oswego has quite a variety, so this tends to be a less meaningful stat, generally speaking, in this niche.

19 Average Days on the Market (June 21)