It is extremely common for home warranties to become part of a purchase agreement in the sale of a house. There is a section of the OREF (Oregon Real Estate Forms) that asks if a warranty will be included in the sale, at what price, and who will pay for it. I like to council my clients that the time to think about a warranty is before you are signing paperwork. Do a little leg work now so that you can know if you want a warranty and which warranty your prefer.
There are numerous companies that offer warranties. By far the big dog in the field is American Home Shield. I don't know whether they are the oldest company, but they are certainly the largest. Having said that, their warranty may not be your top choice. You won't know without doing some research.
Different companies offer different coverage. I'm going to start by saying that warranties generally cover the "mechanical" aspects of a house. Think things that involve a power source. This would be things like the hot water heater and the dishwasher. They generally don't cover "structural" aspects of a house. This would be things like the roof and the foundation.
The coverage is paid for at closing, in a lump sum. It lasts for 365 days from the date of closing. When you go to use the warranty you call an 800 number to place a work order. The warranty company then sends out a local contractor that they have in their network (you don't get to choose the contractor). To get them to show up at your door you pay a service call fee (usually about $60-$80). That's it. They do the repair and your cost is mostly limited to the cost of the service call fee.
I have heard that warranties are used on average a little over two times per warranty. If you have one, you are very, very likely to use it.
I think all companies have a basic package that you can then add options to. Most start at a price around $350, although there is a good warranty out there for $295 that I recently saw. I think the big differences in the pricing has to do with how appliances are covered and limitations to coverage. For instance, many don't cover the washer, dryer, and refrigerator. Those have to be added on as options. Some will cover the furnace but only up to $1500. This is why you want to do your research now.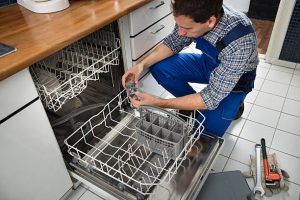 Now is the part where I get to tell you my story. I bought my home and the seller bought me a home warranty. It was from a National company that was well known. I had two occasions to use it and my conclusion from my experience was that the warranty company was very motivated to fix problems, but not to buy me new stuff. I bought an older home with older elements. I knew from my home inspection that the dishwasher was pretty much shot. The seals around the door were all cracked from wear and age. The darn thing couldn't be run without water leaking all over the floor. I called the warranty company and they sent out a contractor who did a proposal to spend about $300 on installing new seals. This was on an ancient dishwasher that hadn't run a full cycle in quite some time. I suggested it was a waste of money to put a band aid on that old thing. That lead to a proposal from the warranty company that I could apply the $300 towards a new dishwasher, which I did. I paid the difference and I got a new dishwasher. I was happy with this solution. My second use of the warranty was for my furnace, which was also extremely old. It quit working, I called the warranty company, the furnace was repaired. It took perhaps 5-6 weeks for it to quit working again. I called the warranty company, it was repaired, winter came to an end and my warranty expired. The next winter the furnace went out again. This time I called an HVAC company of my choice and when they came out they red tagged the furnace and told me it wasn't safe to operate. I bought a new furnace. In hindsight, I should have called the warranty company for that second repair, but I should have also paid my own HVAC company for their opinion. I think if I had done that I would have been able to use my warranty towards my new furnace. Live and learn, right?
I do think warranties are an excellent option when you buy a house. The purchase of a house is expensive and a warranty will give you some peace of mind that you'll be financially able to manage the house a little more easily during that first year of ownership.
At the end of the first year you will be given the option to renew the warranty. I have had clients who do this every year for years and years. They love their warranties!
Here is a link to ConsumersAdvocate.org and their list of the 10 best warranties for 2018. Within their website they have links to the various warranties along with phone numbers to call and ask questions. Do your research now. Get the best warranty for your circumstance. To go to ConsumersAdvocate.org click here.
As always, thanks for reading!
Dianne