This is just a stunning house. I am super excited to be representing it's owners as it is sold. Full disclosure, the house received an accepted offer the day it was put up for sale. I think this speaks to two things. First, contemporary homes are super popular right now. I've been in this business long enough to remember a time when traditional homes was what was hot and the contemporaries were slow to sell. That is not the case in 2018. Contemporary homes
are hot, hot, hot. Second, it pays to take good care of your property. The owners of this house have really enjoyed it and done improvements over the entire time that they have owned it and it shows.
The house is in Lake Oswego but just across the county line into Multnomah County. It is part of the Mountain Park Home Owner's Association. This means it has access to the wonderful rec facility with swimming, weightroom, basketball, a big reception room, and 15 miles of walking paths.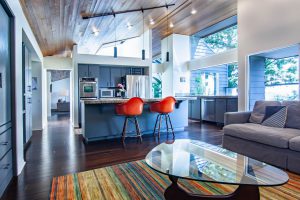 It was built in 1982 and has 3584 square feet with 3 bedrooms, 2 bonus rooms, a living room, and a family room. It's a 2 car garage. There are valley views to the South and 6 big decks take advantage of those views. The asking price was $739,900. We are in escrow and going through the home inspection process. I am confident of the solidness of the current buyer, but I am also keeping a list of people who want to be contacted if it comes back onto the market. Please let me know if you want to be added to that list.
Enjoy the weekend!
Dianne