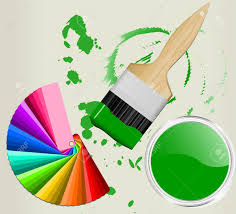 I just got done with my own house-painting project, and didn't think it would take as much of my time or thought process as it did!  Being in this business, you'd think I'd sail right through that one, and/but when it is your own home, its always a different experience. There are lots of things to think about. Color is the first one.  I gave myself weeks of driving around and consciously looking at homes and trying to picture myself coming home to that color.  As time went on, I noticed that I was attracted to a particular color combination which I had used on a previous home. I had really wanted to try something new, but in the end, the color combo I chose is what made ME feel that "home" feeling.
Here are a few things that came up for me, and that you might find helpful:
You'll want to think about how many colors to employ. Some people use one color for the main body of the home, another for the basement (if there is one) and another for eves or dormers or other accent features. Others use one color for the whole body.  If your home is small, consider that it may look larger if you avoid visually chopping it up by, for instance, painting the basement a different color. If it is a larger home, a little contrast may be nice. Also, remember the porch.
If you have a comp roof, what color is it?  Take that into consideration as you contemplate complimentary color schemes.
If you are selling your home, talk to your Realtor and/or the paint store about popular colors. Its wise to stay neutral, and/but you don't want to be boring!
Walk around your neighborhood. Take a look at the colors on the block. It may inform you as to what will be appealing from the street.  You don't want three dark grey w/white trim houses right next to each other…
I was advised (and it turned out to be true) that the color will show up a little lighter on the walls than it looks inside the paint store.
In addition… I'll share a little superstition with you that I find charming. Many believe that it is a good idea to paint the underside of your porch's ceiling blue.  It is considered Good Luck. You can Google it & find out more. Bottom line? I like Good Luck (I don't see a downside : )  I am loving my blue ceiling on the porch.
Many people use more than one color on the trimwork & windows.  As in beige with black accents, green with beige accents.  If you are going for contrast and/or just like white trim, most professionals will tell you to use an off-white as it shows wear (and dirt) less.
Consider paint quality and your priorities.  If you are staying in your home for the long-term, you may choose a higher-quality paint (I did ). It wears longer and means you won't likely need to paint for many years to come. If you are selling your home and spending money on multiple projects, you may want to choose a standard paint. Most reputable paint companies have great quality standard paints that last a long time!
Ask for referrals from friends and/or your Realtor when you choose a painter. You want someone who knows what they are doing and is responsible, licensed and bonded. I'd advise getting three bids.  I found there to be a wide variety of pricing and professionalism.
Lastly… Make sure YOU are happy with your color choice. Don't let anyone talk you into something that doesn't feel like "home" to you.