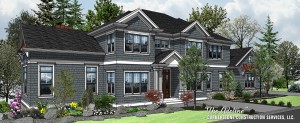 Since 1985, August is the month for the Street of Dreams in the Portland metro area. This showcase of luxury homes can be found nation wide, but it actually originated in Portland in 1985 when the Home Builder's Association of Metroplitan Portland decided to have this showcase to highlight and promote home builders and designers.
While I have not attended every Street of Dreams, if it's in LO I am going to go. LO has hosted the Street of Dreams at least 3 times, that I am aware of.
There is a real WOW! factor to it. I like to look at homes that are beautiful and that are perfectly decorated. It's a bit inspiring, but more than that I always take away ideas. It lets me see color trends, architectural trends, and even take away ideas that I use on a small scale in my own home.
What are this year's trends? Here are some of my take aways:
Blue is the hot color right now. I saw it everywhere: even in the trim color on the exterior of a house. Seriously, that is a big color commitment. This same house had blue cabinets in the kitchen. Yes, it had BLUE cabinets.
Natural stone and granite remains a must-have element. And just as I observed after the street of dreams about 3 years ago, the stone colors are trending to black, gray, and white. There was little or no use of what are called "earth tones" such as brown or rust.
Exterior kitchens remain popular with built-in gas grills, fireplaces, and refrigerators.
The floorplans are mostly greatrooms with a huge bonus or second greatroom upstairs. The second greatroom generally has a huge sofa area for watching a mega-size TV, a wet bar or second full kitchen, and a game table area. Two of this years houses have balconies off of the upstairs greatroom that are huge and have views of the valley or Mt Hood: really nice!
Contemporary is back in demand. Over half of the homes are extremely contemporary.
Here are some things that surprised me:
There is a house with only a 2-car garage. OK, this actually shocks me. A person with the financial capability to buy in this price range ($1,500,000-$2,750,00) is a person who not only has 2 cars, but perhaps a 3rd car in addition to all of the toys that need storage like snowboards, jet skis, etc. I think the lack of a 3rd car bay is a HUGE mistake for resale.
Some of the houses have unbelievably small master closets. Again, a big "duh", this is so basic when folks buy expensive, new homes. The master needs a gigormous closet!
The remodeled Shaw house was not well done. This classic mid-century modern is the original home for the area. It is architecturally wonderful and I give credit to the Home Builder's Association for saving it and doing a full remodel. But the resulting floorplan is chopped up with too many small rooms. There is a lovely courtyard, but none of the major living area looks out onto it. I just came away feeling that somehow it could have been done better.
Not one of the houses was built with a lodge motif. I think this is a big gap. The look and feel of wood-beamed ceilings and the use of lots of natural stone inside remains in demand.
Last, I show a lot of property in Lake Oswego, including up in this price range. These houses are gorgeous, but they are not over the top. Many homes in Lake Oswego could hold their own in this group, quite easily.
I do want to encourage you to go. It's the best way to see these gorgeous homes without having to get your real estate license.
Details:
August 1-30, 10am to 9pm
$17 admission, kids under 10 years are free
Park at a shuttle pickup spot (M-F at LO Jr High, 2500 Country Club Rd/Sat, Sun park at 4000 Kruse Way). The shuttles come regularly and there is very little wait time.
Saturday and Sunday you can also take the Trolley from 2nd and A in downtown LO.
Food and beverages are available for sale.
If you want to visit the Street of Dreams website, click here.
Have a good time!
Dianne