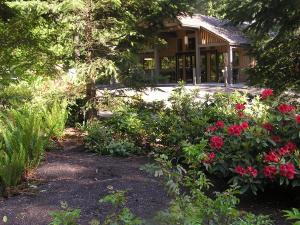 I think a well rounded community has services for all citizens, regardless of their age. It goes without saying that nearly every community has public schools and parks. The youth tend to be very well served. However, that is not always the case for our senior citizens. In Lake Oswego, great effort has been made to engage our seniors and the heart of this program is the Lake Oswego Adult Community Center.
Located at 505 G Avenue, in Lake Oswego's First Addition, the center is open Monday thru Friday from 8:00am to 9:00pm. The programs and services are for those in the community who are 50 years of age and older.
What will you find?
Lunch is served Monday, Wednesday, and Friday at noon. Delicious hot meals are served for a suggested donation of $4-5. Looking at the June menu, I found chicken, pork, salmon, salad, veggies, and deserts. It a generous meal with all of the fixings.
Friday is movie day every week at 1:00pm.
Lots of classes are offered including fitness, zumba, knitting, painting, meditation, line dance, computers and technology.
Groups meet regularly to enjoy Bridge, Mah Jongg, hiking, pinochle, and scrabble.
There are support groups for arthritis, caregiving, diabetes, and the widowed.
Services are offered to aid with income tax preparation and there is a respite program for those dealing with memory loss, Parkinsons, and stroke.
I have personally taken advantage of the assisted living equipment. Just drop in, fill out an application, and the equipment is free. I occasionally check out a transportation wheel chair for my Mom. She does not need a full-time wheelchair. But we occasionally do longer outings and having one to use enable both of us to see and do more.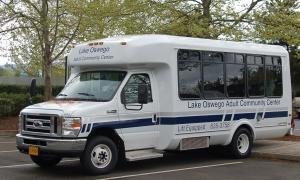 The transportation program is amazing. Monday, Wednesday and Friday a bus is sent around town to collect those who no longer drive. It is a door-to-door service that picks them up and brings them to the center for lunch and drops them back home in the afternoon. This is done for a suggested donation of $1.
I think the Adult Community Center in Lake Oswego is pretty amazing. Aging is a challenge. Staying active, both socially and physically, is important. I want to encourage you, if you are 50+ years young, to take advantage of the ACC. And if you are not there yet, consider telling your friends and neighbors about it.
Enjoy!
Dianne