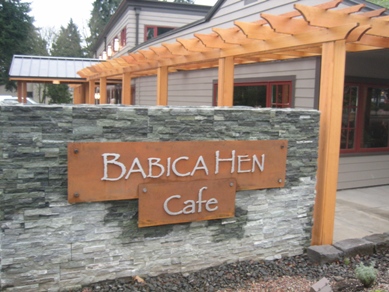 Lake Oswego enjoys several really nice breakfast restaurants. The fresh pastries and fluffy omelets at La Provence are legendary. St. Honore opened next to Millennium Plaza Park recently, bringing amazing Croque Messieurs and Croque Madames (yum!), but these two fine establishments are now going to have some fierce competition. Babica Hen is in town.
Located next to Gubanc's (at 15964 Boones Ferry Rd), it's right in the heart of downtown Lake Grove.
The owner's are the same people who own Gubanc's, which is pretty much a restaurant institution here in LO. So it makes sense that they know what they're doing. Whereas Gubanc's is more of a lunch and dinner restaurant, Babica Hen specializes in breakfast with a few lunch options.
The menu is amazing. Le Waffle Lyonnaise (black forest ham, egg, arugula, and tarragon hollondaise), the Lemon Berry Crumble Waffle (Amaretto blueberries, lemon marscarpone, and brown sugar crumble), 3 different eggs Benedicts (tomato, smoked pork, and dungeness crab), prawns and polenta, and the well-named Iron Miner's Breakfast (potato hash, eggs, roasted tomato, carmelized onion, cheddar, chorizo gravy, bacon AND maple sausage), are just a sampling. Seriously, the menu is huge and creative.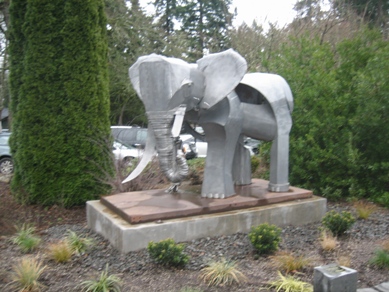 Prices are reasonable with waffles at $9, the Iron Miner's Breakfast at $11, and the most expensive thing on the menu for $13 being Champagne Oysters (yes, this is what I had, fantastic).
Are you hungry yet?
I highly recommend giving Babica Hen a try. Be prepared to wait. The parking lot is pretty much packed, but the kitchen is efficient and service is quick. Last Sunday at 10am, my wait was about 15 minutes.
Hours are Tuesday thru Sunday from 7am to 3pm, closed on Mondays.
Enjoy!
Dianne