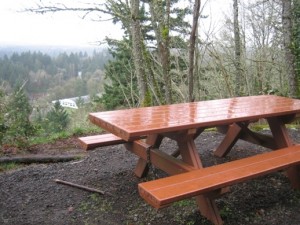 As an avid walker and hiker, I was completely surprised about 2 weeks ago to learn about a wonderful trail not too far from my house. It's called the Iron Mountain Trail.
The trail head starts at the top of Iron Mountain along Glen Eagles Rd. I don't know the exact distance, but I would guess it at close to a mile long. It has an easy grade across the side of Iron Mountain and ends at Lake Oswego Country Club.

The trail is groomed with packed gravel and wide enough for a couple of friends to walk side by side. It is such a gentle slope because it was originally a rail road bed for the Oregon Iron Company.
Back in 1865 Iron was discovered in what is now Iron Mountain. There are still mine shafts in the mountain, although the entrance to the mine has been cemented over to prevent kids and animals from mishap.
About halfway along the trail there is a junction that you can also take that goes the opposite direction along Iron Mountain but down to the The Hunt Club. The views that direction are lovely as well. You get a birds eye view of the horses and the arenas.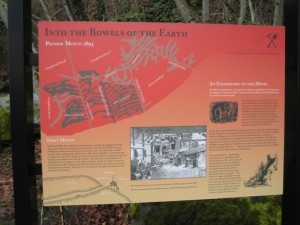 One of the great things that makes Lake Oswego a great place to live is the ability to take nice walks and hikes. This trail is now one of the options that I will make regular use of.
Dianne