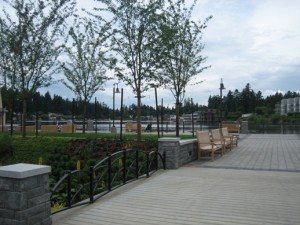 The City of Lake Oswego is in the final stages of completing the city's newest park, Sundeleaf Plaza. The park is centrally located on State Street between the Lake Theatre and Millennium Plaza Park.
Only just a few years ago the lake could not be seen from downtown. In fact, there were no public access points at all. With the construction of Millennium Plaza Park in 2000, and now Sundeleaf Plaza in 2011, the lake is accessible to the public and views of the lake can be enjoyed by those passing through town on Hwy 43.
The plaza is named in honor of Richard Sundeleaf, a prominent Oregon Architect. Mr. Sundeleaf lived in Lake Oswego for a number of years and 9 homes that he built are listed on the City of Lake Oswego's landmark designation list, including his own home on Phantom Bluff.
Mr. Sundeleaf also built a number of commercial buildings in Lake Oswego including the Lakewood Center, the Lake House Restaurant, the Lake Theatre, and the Murphy real estate building (currrently home to Starbuck's). His style combined Arts and Crafts with Tudor to create a charming style that had a huge influence on the "village" atmosphere so prominent in Lake Oswego.
The new plaza has views of Lakewood Bay, and a lakeside promenade. The Lake Theatre next door is remodeling to allow for lakeside dining and use of an outdoor fireplace that faces the plaza.
This plaza is a great addition to the many outdoor spaces to be enjoyed in Lake Oswego. It's another great reason that Lake Oswego stands out as a wonderful community to live in.