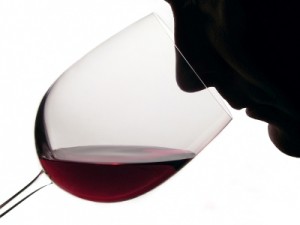 I know that when you think of wine tasting, if you are like me, you think of summer breezes and lazy afternoons.  But, believe it or not, the premier time to tour Oregon vineyards is the weekend following Thanksgiving.  This is because the fall harvest is complete and there is a sense of celebration.  Many vineyards that are normally not open to the public will hold open houses over Thanksgiving weekend.  And nearly every vineyard is decorated for the holidays.  It is a wonderful time in Oregon Wine Country.
Living in Lake Oswego, we are only about a half an hour's drive from Yamhill County, and about an hour's drive from the start of the vineyards up along the Columbia River.  There are literally hundreds of vineyards.  Some are quite large and some are very small.  Some are run on a corporate level with huge mechanized operations, and others are truly hand crafted.
If you intend to take a wine country tour, you need to do a little prior planning.  First of all, there needs to be a designated driver.  Those little sips can add up.  I also highly recommend trying one of the many companies that put together wine tours.  I personally spent a fantastic Friday following Thanksgiving with a company called Grape Escapes.   You can arrange a private tour, a group tour, or asked to be a part of a group tour.  They also have full day and half day options.  On the occasion that I attended a friend and I organized a group tour.  We had about 10 people and were picked up here in Lake Oswego.  We then spent the day being driven in a 15 passenger van with a wine guide.  Each stop was a different vineyard.  We were treated to not only a tasting of wine, but a tour of the vineyard and a small meal.  It worked like a progressive luncheon that lasted all day.  The total cost?  About $100 per person plus gratuity.  But considering that the wine tastings were included, as well as our meal and the gas, it was a total bargain.
If you do go after the big turkey dinner, my recommendation is to head out Hwy 99 towards Yamhill County.  The various vineyards are pretty well marked along the highway. You can also find a map by clicking here.  And to help with your planning, here are a few tips:
Don't squeeze too many wineries into one day.  They'll still be there when you go back later.
If you aren't on a tour that offers food, pack snacks or plan to stop for lunch.
Don't bother washing your car before you go.  Most drives into the vineyards are not paved.
There are maps available on-line at the link above to help you avoid the main roads.  Traffic can get thick and you may want to favor side roads.
Wear comfortable shoes and bring warm layers and a rain coat.
Don't wear cologne or perfume, as they will inhibit your ability to smell and taste.
If you bring children, bring activities to keep them occupied.
Be polite.  Remember that you are a guest of the winery.  Don't complain about tasting fees as that is what it costs to be able to allow you the sample.  And many wineries will reimburse the tasting fee when wine is purchased.
I will personally recommend a stop in McMinville at Stonewolf Vineyards.  They have been known to not only have award winning Pinot Gris (in 2008 named a brand favorite by Rachael Ray), but in year's past have served a spectacular salmon meal with country fiddle players.
Most vineyards charge a tasting fee of about $10.  Wine is also for sale by the bottle and by the case.
Celebrating the harvest.  Celebrating Thanksgiving and the holidays.  Celebrating Oregon.  We are so blessed and in so many ways.
Happy Thanksgiving, Dianne