There are 31 properties to be held Open Sunday in Lake Oswego according to RMLS (detail below).
I'll be holding two of my listings Open in one day… so you'll see me running around town with my flashers on picking up and placing signs
from the trunk of my car trying to bi-locate : )   Dianne and I LOVE to meet our Property Blotter readers, so please stop by and say "Hello" !
I'll be at 4840 Lamont Way (By Lakeview & Bryant) from 11AM till 1:30PM.
This is a really cute Remodeled Cottage on a very Large & Private .23 acre lot in an Awesome Location very near the Lake, Waluga and Bryant Elem.  3 Bd, 2 Full Baths 1793 SF… much larger than it looks from outside… Generous Bedrooms and a detached Studio? Shop? Office? that is not included in the square footage.   Metal Roof, All New Carpet, Hardwoods in Fam Rm, Additions with Rejuvenation touches to match era, Remodeled Kitchen too + Sunroom Dining $335,000.
I'll be at 979 Devon Lane (McVey to Cornell, up hill, Left at Larch, Right at Oxford, Left at Devon Lane) from 2 till 4:30 PM.
What a gorgeous hilltop home! Brand new listing.  Near Hallinan Elem and LakeRidge HS.  Talk about views… this one has Sweeping Panoramic Views including Mt Hood from a wall of windows.   Hardwoods, Granite, SubZero, Vaulted Ceilings, Decks including Private Master Deck w/Hot Tub, New Ht Pump, New Gutter Filter System, & on & on. Even has an Apartment with separate entrance!  & Basement with insulation & sliders that is not included in square footage but could be a shop, studio, family room (add a deck outside sliders?)  or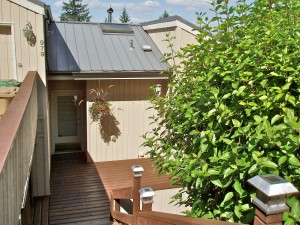 storage… tons of potential.  4 Bedrooms including the Apartment, and 3 1/2 Baths.  $457,000.  (!!!) Check comparable values.  If you're interested you'd better take a look now : )
There is a lot to see in Lake Oswego, and it should be a great day for touring.  Hope to see you!  Here you go:
| | | | | | | |
| --- | --- | --- | --- | --- | --- | --- |
| Address | L/Price | # Beds | # Baths | Total SF | Style | Time |
| 4000 CARMAN DR #85 | $124,900 | 2 | 2 | 834 | CONDO | 1-4PM |
| 4081 JEFFERSON PKWY | $205,000 | 2 | 2.1 | 1618 | TOWNHSE | 12-3PM |
| 18430 PILKINGTON RD | $239,900 | 3 | 1.1 | 1029 | DETACHD | 2:30-4:30PM |
| 6062 BURMA RD | $269,987 | 4 | 2 | 1875 | DETACHD | 1-4PM |
| 5713 SW KENNY ST | $279,900 | 3 | 2 | 1384 | DETACHD | 2-4PM |
| 4840 LAMONT WAY | $335,000 | 3 | 2 | 1793 | DETACHD | 11-1:30PM |
| 662 CLARA CT | $399,900 | 3 | 3 | 2740 | DETACHD | 12-3PM |
| 2602 ORCHARD HILL PL | $409,900 | 3 | 2.1 | 2568 | DETACHD | 1-3PM |
| 979 DEVON LN | $457,000 | 4 | 3.1 | 2162 | DETACHD | 2-4:30PM |
| 326 LAKE BAY CT | $474,900 | 3 | 2 | 1400 | DETACHD | 1-3pM |
| 12 SCARBOROUGH DR | $499,900 | 4 | 2.1 | 2892 | DETACHD | 1-4PM |
| 19319 SW DOGWOOD CT | $499,900 | 4 | 2.1 | 3105 | DETACHD | 1-5PM |
| 19415 SW DOGWOOD CT | $519,900 | 5 | 3 | 3517 | DETACHD | 1-5PM |
| 4398 GLACIER LILY ST | $535,000 | 4 | 2.1 | 2936 | DETACHD | 3-5PM |
| 19263 MEGLY CT | $559,900 | 5 | 3 | 3213 | DETACHD | 1-5PM |
| 19245 SW MEGLY CT | $569,900 | 5 | 3 | 3490 | DETACHD | 1-5PM |
| 5705 SOUTHWOOD DR | $575,000 | 4 | 2.1 | 3360 | DETACHD | 1-3PM |
| 13596 STREAMSIDE DR | $579,900 | 4 | 2.1 | 3430 | DETACHD | 1-4PM |
| 17981 MEADOWLARK LN | $584,900 | 3 | 2.1 | 3250 | DETACHD | 12-3PM |
| 15915 WALUGA DR | $598,950 | 3 | 2.1 | 2939 | DETACHD | 1:30-3:30PM |
| 5 CELLINI CT | $697,000 | 5 | 3.1 | 4895 | DETACHD | 1-3PM |
| 5321 AMBERWOOD CT | $709,000 | 4 | 3 | 3315 | DETACHD | 2-4PM |
| 1015 SOUTHSHORE BLVD | $717,000 | 4 | 3 | 3542 | DETACHD | 12-1:45PM |
| 649 9TH ST | $767,500 | 3 | 2.1 | 2812 | DETACHD | 1-3PM |
| 5320 SOUTHWOOD DR | $779,000 | 4 | 3 | 3646 | DETACHD | 3-5PM |
| 17301 CANAL CIR | $799,000 | 3 | 2.1 | 1812 | DETACHD | 12:30-2:30PM |
| 17896 KELOK RD | $799,000 | 5 | 5 | 4323 | DETACHD | 2:30-4PM |
| 17884 KELOK RD | $799,000 | 5 | 3.1 | 4124 | DETACHD | 2:30-4PM |
| 4018 COHO LN | $1,045,500 | 4 | 4.1 | 4777 | DETACHD | 1-4PM |
| 18209 SIENA DR | $1,097,000 | 5 | 3.1 | 3839 | DETACHD | 1-4PM |
| 1808 RIDGE POINTE DR | $1,269,000 | 5 | 4.1 | 4155 | DETACHD | 1-4PM |