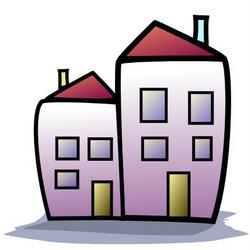 When looking for a new home and desiring easy care and potential community amenities such as pool, larger grounds, meeting space etc (without the responsibility of upkeep), most people will consider either a condo or a town home. Most also aren't necessarily familiar with several relative factors important to the selection process, so I thought I'd highlight just a few for you here.
First of all, there is a difference between a condo and a town home ~
Let's start with condos: A condo (condominium) is a kind of home ownership wherein the purchaser owns the air space inside the unit and joint interest in the common areas, typically the grounds, parking lot, any structures and amenities such as swimming pool, meeting rooms etc. Condo owners belong to an HOA (homeowners association) and pay dues for common expenses such as insurance and maintenance of common areas.
Townhomes are what we call "attached" homes, considered not free-standing and usually containing two or more stories. A purchaser owns the structure and the land on which it sits, and like a condo, generally joint interest in the common areas . Often with town homes you will have a small backyard or patio area which is in excess of what many condos provide, so gardeners or pet owners often find this more attractive. As in condo ownership, the town home owner typically pays monthly dues for upkeep of common areas and other amenities. It is wise to check into the insurance setup of on HOA to find out if it is supplied and therefore included in the monthly dues, or whether the town home purchaser needs to secure their own hazard insurance on the property.
Generally speaking, condos and town homes are attractive for more reasons than just low maintenance and the amenities they afford. They usually are priced well below what one would pay for a similar detached single family residence… or "house". One thing to give attention to however, is finding out how much the HOA dues are, and what they cover. Does the HOA offer parking? water & sewer? trash collection? cable TV? Take these things into consideration and ask yourself how positively you are offset financially (or not) by being free of these normal expenses of home ownership.
Another thing to take into consideration is the solvency and efficiency of the HOA. I have listed condos and town homes and experienced neighbors in surrounding HOA's visiting on Open House days, exploring the option of getting out of their own nearby complexes! This is reportedly due to the perception of either oppressive or mis-managed HOA's. I've heard stories of frequently raised dues, extreme restrictions, and just plain inattentiveness… while the HOA next door treats its members with appreciation and service. Bottom line- check out the HOA:
Call & obtain copies of at least the two most recent board meeting minutes,
Obtain financial statements,
Take a look at the Bylaws and Regulations,
Find out how much the HOA has in reserves so you have an idea of whether they are in need of maintenance funds,
Talk to a few neighbors and get a feel for their level of satisfaction ,
Find out whether you might or might not be able to rent your unit out in the future if you so choose,
Ask how many units are in the complex, and how many are allowed to be rental units,
Does the HOA allow gardening in the back patio area?
Are there any restrictions that will impact your lifestyle?
Determine if there are any lawsuits anticipated or pending,
Ask whether there are any big improvement projects planned which will require capital infusion (i.e. significant dues increases).
Condos and town homes are wonderful options for home ownership, and can be a great place to start as first time buyers, as well as a fantastic way to downsize once the kids are gone. Talk to your Realtor about what makes sense for you, and be sure to get all the facts!