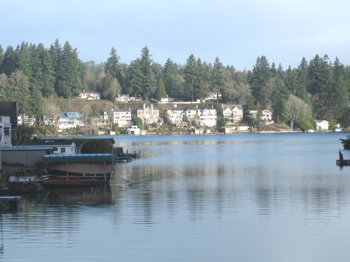 A few days ago I spent some time analyzing inventory. I thought I'd share with you some of my observations.
On the day that I did this, February 6, 2009, there were 418 single family, detached, homes for sale in Lake Oswego. Here is the breakdown by price:
$100,000-$199,999 = 3
$200,000-$299,999 = 13
$300,000-$399,999 = 41
$400,000-$499,999 = 48
$500,000-$599,999 = 44
$600,000-$699,999 = 38
$700,000-$799,999 = 28
$800,000-$899,999 = 30
$900,000-$999,999 = 37
$1,000,000+ = 136
If you have been reading the market activity reports on Mondays here at the propertyblotter, you have probably noticed that for the last several months there have been very few properties sold in the million dollar and over price range. In fact, it has been since early December that a sale has closed at that price point. 136 houses priced over a million dollars just seems like a lot of high-end inventory. In all of 2008, 45 houses sold that were priced at a million dollars or greater. At that rate, it will take a little over 3 years for the current inventory to be sold. What does that mean? It means that if you are in the market for a high-end, luxury home, you have lots of houses to choose from and motivated sellers will be making sacrifices to get their properties sold. I think that the sellers who truly have to sell quickly will be dropping prices and making concessions to secure a good sale.
Having said that, you will also have noticed that in this Monday's market activity report two high-end homes went sale pending: one for $995,000 and one for $1,995,000.
It is very typical that the market is slow during the holidays. Seeing the two pendings this week can be seen as the market gearing up as we approach spring, which is a very active time for sales.
In doing this, I really enjoyed seeing the break down of the numbers in the more affordable price ranges as well. There are quite a few really nice homes that would not require jumbo loan financing. A jumbo loan is $417,000 or greater and typically has a higher interest rate than a conventional loan.
I also have from time to time compared the inventory of homes priced at $350,000 or less in Lake Oswego to the inventory available in Sellwood, a neighborhood in SE Portland. I have done this because I believe that Lake Oswego is often over-looked for affordable housing because of its reputation for million dollar housing. The first time I made the comparison, last April, there were 20 houses for sale in LO and 18 in Sellwood. The next time I did it, last August, there were 28 in LO and 32 in Sellwood. At the time of this current analysis I have found 36 in LO and 27 in Sellwood. So both areas have more houses for sale priced at $350,000 or less than they did 10 months ago, and Lake Oswego continues to be strong in this price range.
The least expensive house for sale in Lake Oswego, that is not a tear-down fixer, is priced at $189,900. It was built in 1955 and has 1320 square feet with 2 bedrooms and 1 bath. It's on a very large lot in Lake Grove.
The most expensive house for sale in Lake Oswego is Jantzen Island. A private island in the lake of 5.5 acres with a 10,000 square foot main house and a 3500 square foot guest house. It's priced at $19,500,000.
I am curious to see how our inventory changes as we go into the spring. With the current economy it is bound to be slower than normal. If anything, the current economy is increasing the number of homes in the more modest price ranges. And for buyers who want and are able to purchase a high-end home, there is great selection and some great deals to be found.