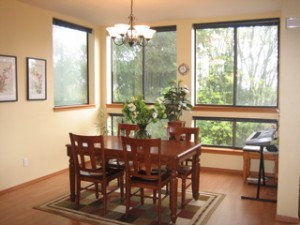 Spring is traditionally the strongest time of year to sell your home.  If you want to sell, you need to get your home ready.  You want to win the beauty pageant.  The place to start, before you list your home for sale, is with proper home staging.  The way you live in your home and the way you sell your home are two different things.  It does add a layer of care to your already busy life, but it will payoff when you sell by getting your home sold more quickly and by helping you to get the best price possible.
Start by standing out at the street.  This is your buyer's first impression.  Can you see the front door?  Can you see all of the windows?  Is the lawn green?  Are flower beds free of weeds and bushes nicely trimmed?  What about the color of the paint?  Is it one of the popular shades used today or something from when you moved in in 1996?  Is the roof clean and free of moss?  If you said no to any of these questions, then you've got work to do.  Too often homeowners let trees and bushes become over grown and drown the house.  Over-growth makes you house look like a big blob.  Do you want to buy a blob?  Neither does a buyer.
Next stand at your front door.  I believe this is the most critical moment for a buyer.  Remember that they will pause here for a minute or two while the Realtor gets the key from the lockbox and opens the door.  Your buyer will have time to look around and get a close-up look at everything around the front door.  I truly believe that they make a decision at this point.  If they like what they see, they will enter the house with a positive attitude and look for positive input to reinforce what they already believe.  If they get a bad impression, they'll be critical as they go inside and look to find fault; again to reinforce what they already have decided.  The front door is usually a small area.  Here is what you need to do.  Wash or freshly paint the front door and the windows around the door.  Sweep or pressure wash all of the walls and ceiling around the door to get rid of spiders, webs, moths, and bug stuff.  Scrub the weather stripping at the threshold so that there is not one speck of grime.  Make sure weather stripping is in good shape, but that the door opens and closes easily.  Make sure the lock works!  Now add some color.  A couple of pots with flowers, a wreath on the front door.  Please, no holiday decorations that are months old, or pots of dead easter lillies.  Splurge and spend $20 on some nice flowers, then be sure to water them.
You've done it!  You've gotten your buyer inside.
You are moving, right?  Why not get a leg up on the job and start packing BEFORE you put your house up for sale.  You want to de-personalize your home.  Take down personal momentos, collections, most family photos, all of the stuff on the refrigerator.  It should be like a model home that you want to move right into.  And all of your very personal stuff keeps your buyer from feeling like it is "their" house.  I recommend that you do this one room at a time.  Just make a big pile in the middle of the room that you want to either store or donate/toss.  It is ok to have a few family photos.  For instance, a bookshelf with a combination of a few framed photos, some books, perhaps a small piece of art work or decorative glass, that is fine.  But that hallway photo gallery showing Joey, who is now 35, in every grade of school he ever attended:  take it down.
Less truly is more.  As you clean out clutter and stream-line each room, you will make them look larger.  A small home, well staged, can look bigger than large home full of clutter.
This is also true of furniture.  Make sure you store away anything that gets in the way in hallways, at the top of stairs, as you enter rooms, and on stairway landings.  The fact that you had no where else to put the furniture just screams "This house is too small!".  In addition, they could actually be a safety hazzard when you have a group of people seeing the house together and unable to maneuver on the stairs.  Another important thought with furniture is do not cover up a homes features.  Don't place TV's in front of windows, or dressers across closets, or a couch across the fireplace.    Move the furniture around and show off each rooms best feature.  Make sure to not have too much furniture.  A few pieces in each room is all you need.  For a living room: a couch, a chair, a love seat, and a coffee or similar table is plenty.  If you have a piano, don't be afraid to store the couch or the love seat.  You want the room to feel big and not to be dwarfed by the furniture.
The kitchen and bathroom counters are the toughest to empty and also the most important.  Many a buyer has ruled out a home because either the kitchen or the bathrooms seemed too small.  You can make them big, with a little effort.  As much as possible, but things away in cupboards.  A few things may be impossible to put away because they are constantly in use.  Hello?  The coffee pot?  With things you just have to have handy, cluster them into one group.  So if you have the coffee pot, the decorative decanter of olive oil, and the pepper mill tastefully gathered in one corner, and nothing else anywhere on the counter, you'll get away with it.  Take away the cluster and string the three items around the kitchen and suddenly you got clutter.  Bunching is a wonderful thing.  The same thing holds true in the bathroom.  I also highly recommend baskets or decorative boxes.  If you use a container, you can pretty much fill the container and still keep things attractive.
The areas to focus your attention are:  the entry, the living room, the dining room, the family room, the kitchen, and the master bedroom and bath.  Do the whole house if you can, it will pay off.  But if you have limits to your ability to take on this project, at a minimum, get to these rooms.
Now for those of you who are after the best money and the quickest sale, you'll take it to the next level.  Clean out closets and fold and stack everything in an orderly and tidy fashion.  Get your kids on board helping you.  Those big tubs that are made to hold toys are great.  Tell them that when they are finished playing, just throw everything in the tub.  It makes for a pretty quick clean up.  Go around the house and wash all of the windows and clean out all of the window tracks.  The pickiest buyer I have ever worked with did three things:  checked the window tracks for dirt, looked inside the oven to see if it was clean, and opened the dishwasher to look at the outer framing of the door.  If these areas were clean, she knew the rest of the house would be too.
Speaking of clean, it is absolutely the cheapest thing you can do to make your house show ready.  No one, not one buyer out there, wants to buy someone else's dirt.  It just doesn't happen.   Pay attention to the bottom of cupboards, the baseboards, around the bottom of the toilet.  Yep, everywhere.
You'll need a place to store all of the stuff you are packing away.  If you can, rent a storage unit or get one of those PODS that allow you to pack things and then have them stored off-site.  If you can't pay for storage, use your garage.  I would rather have a staged home with a garage that is stacked wall-to-wall and top-to-bottom than an empty garage and a messy house.
There are a couple of good websites I found that will give you ideas and perhaps be helpful:
From the National Associaiton of Realtors, click here.
From US News and World Report, click here.
And to visit Barb Schwartz's website, click here.  Barb Schwartz is the queen of home staging.  She has been teaching Realtors techniques of home staging since before I was a Realtor (over 22 years).  I used to refer to staging a home as "Schwartzing" a home.  That's how ingrained in my head this lady is.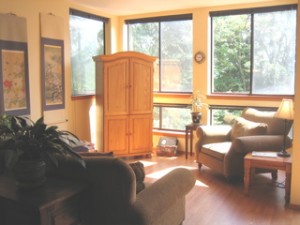 At the top of this article is a photo of my listing in Mt. Park.  I want you to compare that photo to the one that you find to the right.  Can you see the big improvement?  The photo to the right is how this room used to look.  This was not a home with a problem of clutter.  This was a house that needed to show case the homes features.  The home owner moved the living room furniture to the other end of the room in order to showcase the wonderful windows.  Where a TV cabinet had blocked windows, now what you see is light and sunshine.  In addition, the owner replaced several windows that had broken seals.  Now when you walk in, you step back and feel the wow factor.  That is what sells a house.