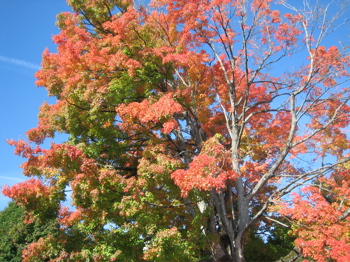 I want to make sure you know about a spectacular tree on the corner of 3rd and C Avenues.
It's an ancient Sugar Maple (Acer saccharum) and at this time of year I always make sure that I drive over to look at it. It's not quite at it's peak. When it is in it's greatest glory, in another week or two, it will be the most vibrant shade of orange that I have ever seen in a tree. It is also just huge. The trunk is gnarled and gorgeous.
It was designated a Heritage Tree by the City of Lake Oswego in 1998. Check it out. It is well worth the drive.