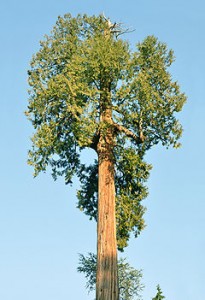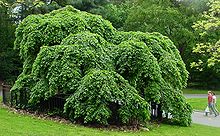 Glenmorrie is not a very big neighborhood, but it packs a lot into a small area. It is bordered by Glenmorrie Terrace to the North, the Willamette River to the East, Marylhurst University to the South, and Skyland Dr to the West.
This neighborhood is known for it's amazing trees. In the late 1800's, Parker Farnsworth Morey, the first President of Portland General Electric, built a grand estate on what is now the Glenmorrie neighborhood. He hired an English gardner to oversee the landscaping and brought in many wonderful trees that included Giant Sequoia, Camperdown Elm, Hemlock, Red Alder, and more. These trees are still in the neighborhood today.
In honor of Arbor Week, April 1st to 7th, a walking tour will be held on April 1st to visit many of these trees. Meet at George Rogers Park at 2pm.
So what are the houses like in Glenmorrie? Most were built in the 1950's and 1960's and tend to be classic ranch style with custom features like vaulted hemlock ceilings and extensive brick work. There are a few newer homes, but most are older and traditional.
At this time there are 5 houses for sale in Glenmorrie. The least expensive is a short sale that was built in 1954. It has 2459 square feet with 3 bedrooms and 2 1/2 baths and is priced at $379,000. The most expensive is a 1985 house with 5894 square feet that has 5 bedrooms and 4 1/2 baths. It's priced at $899,000.
If you enjoy trees, consider going on the neighborhood walk at the start of Arbor Week. And if you want a home that is surrounded by lush landscaping, consider Glenmorrie as a good otpion.
Dianne