The Lake Oswego Trolley is a favorite of mine. The trolley runs from State Street, along the Willamette River to the South waterfront in Portland. It's a blast! One year, I packed a picnic and took my Mom for a trolley ride for her birthday.
The scenery is lovely. It meanders along through Dunthorpe ( a gorgeous neighborhood!) and has expansive views of the river. There is also a long tunnel that is pitch dark inside, except for the lights of the trolley.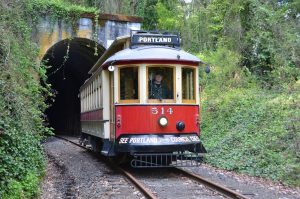 This year the trolley is offering a Tinseltown experience. The event is December 10, 11, and 12. Departure times vary with 3 rides on Friday the 10th, 6 on Saturday the 11th. and 6 on Sunday the 12th. The cost is $20 for adults and $17 for youth (0-17). The trolley is decorated for the season and there is a special guest on board from the North Pole. For more details, click here.
What a fun holiday event for everyone!
Seasons greetings, and, as always, thanks for reading the blotter.
Dianne