A bit of trivia about the Property Blotter. Linda and I started our blog many years ago. Blogging was new to real estate and we had the good fortune of working with someone who was in the know about how to do it. Ron Ares, the son of our principal broker was a new agent who was interviewed by the New York Times because of the blog he had for Portland real estate. I was like "What?!" At that point I had a couple of decades in the business and realized that the power of the blog was pretty incredible for the recognition that Ron got as a result of his efforts. So Linda and I were on board.
Then it was time to choose a name. We knew we wanted to have a name that was uniquely LO. We brainstormed lots of options and came up with the Property Blotter. The name comes from the Police Blotter that was published weekly in the Lake Oswego Review. The Lake Oswego Police have 100% response policy. If you call them, they show up. The police calls are then reported in the local newspaper. What they respond to can be pretty funny. So the local blotter has been a source of local entertainment for many years.
Here is a sampling of what was reported in the August 12th edition of the LO Review:
7/31 9:43 A.M.
A dead squirrel was seen near the 18400 block of Deerbrush Avenue
7/31 12:54 P.M.
A man was seen laying sideways on a step near Boones Ferry Road and Kruse Way Place
7/31 1:19 P.M.
A caller believed someone was selling dogs our of cages in a truck near the 40 block of McNary Parkway. It turned out to be a part of an adoption program.
7/31 9:34 P.M.
Someone was seen walking in the middle of the street near SW Lesser Road and Jefferson Parkway
8/1 7:00 P. M.
A resident said she was being followed by two people at a store near the 90 block of B Avenue. Police made sure she got home safely. (I love this one. Who doesn't want a police escort if you feel unsafe?)
8/2 12:55 A.M.
Intermittent "constuction-type noises" were heard near the 1000 block of Westward Ho Road
As you can see, it can be amusing. There is actually a book that was written about the blotter. It's a good read that I highly recommend.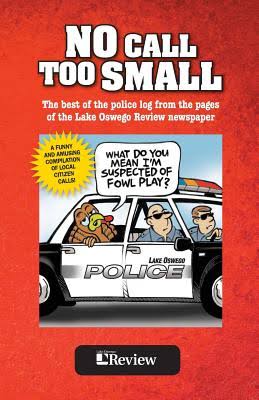 I feel very fortunate to live in a community with relatively low crime and whose police department is 100% there to serve and protect. It's one of the many things I value in my community.
My best to you,
Dianne