Here is your look at the latest numbers as released by RMLS for the overall Portland area and how Lake Oswego fits in just below.
Overview/Fluctuations ~ Market Data May 2021: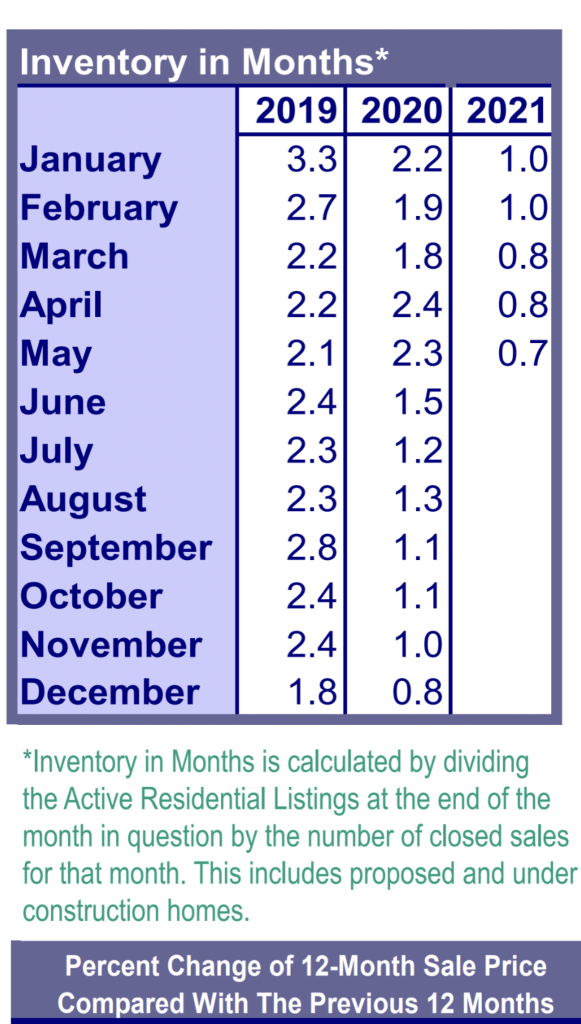 The stats show New Listings dropped a bit (2.3%) in May from April, and/but Accepted Offers rose at the same time by 8%.
Just when we think record lows in Inventory can't get any lower, they do. May took us down to 0.7 months of available housing.
Rates are still attractive hovering around 3.125%. Best to get out and get active if you are planning to, given that the Fed indicated last week that they'd be raising rates sooner than previously expected.
According to the RMLS Market Action Report for the Portland Metro Area, May 2021:
There were 3,971 New Listings in May2021 increased 16.1% over April 2020's 3,419 and decreased 2.3% from the previous month/April's 4,065.
At 3,183, May 2021's Closed Sales are up 62.1% from May 2020's 1,963, and also up 8.0% from the previous month/April's total of 2,946
At 3,717, May 2021's Pending Sales increased 19.4% from May2020's 3,112, and also rose 9.3% from the previous month/April's total of 3,400.
The Average Sale Price in May2021 of $582,200 is up $114,700 from last year/April 2020's $467,500, and up $24,300. from the previous month/April's $557,900.
The "Median" Sale Price (the price smack dab in the middle of all sales) in May 2021 of $515,000 rose $90,000 from last year/May 2020's $425,000, and also increased $15,000 from the previous month/April's $500,000.
LAKE OSWEGO:
129 Active Listings (Apr 123)
222 New Listings (Apr 255)
223 Pending Sales (Apr 218)
199 Closed Sales (Apr 142)
Average Sale Price for May: $928,300 (Apr $818,300)

NOTE: Higher-Priced vs Lower-Priced Homes Sales can skew the "Average" in any given month. Lake Oswego has quite a variety, so this tends to be a less meaningful stat, generally speaking, in this niche.

28 Average Days on the Market (Apr 33)