As a resident of the Lake Grove area, I am just super excited about the new Farmer's Market. It is a pilot program to gage the level of interest for a Farmer's Market on the West side of town. The market is currently happening on Sundays from 1-5. It will run through April 25th. At that point a decision will be made as to whether or not the market will become permanent.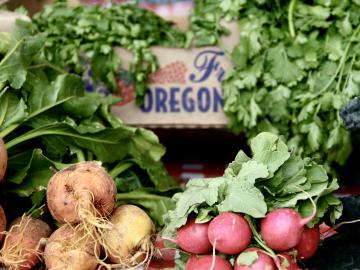 The market is located on Hallmark Drive between Mercantile Dr and Collins Way. There is abundant parking available at Lake Grove Elementary School
Each week there are 15-20 vendors selling produce, meats, seafoods, flowers, and hot foods. For more information and for a complete list of vendors click here.
This market is in addition to the Farmer's Market that has occured on the East side of town at Millenium Plaza Park. That market runs Saturdays, 8:30-1:30, May 5th thru October 2nd.
I hope to see you at the market!
Dianne