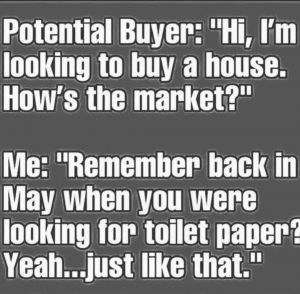 Real Estate is a complex beast, but some aspects of it are pretty simple- Supply and Demand, for instance.  When there are fewer homes on the market, Sellers are in a better position to bargain as it often means there will be multiple offers coming in. Markets like this wreak havoc with Buyers and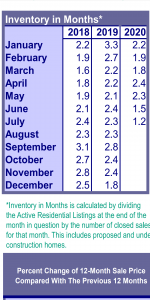 Appraisers alike as folks start pushing prices up in order to win a given property in a bidding situation. I tell my clients who are worried about pushing value beyond the status quo with a higher offer that they are actually setting the standard for Appraised Value on homes in their new neighborhood as Appraisers really are just calculating what people are willing to pay/have paid, thus how much homes in any given area are worth. The sale only counts toward that calculation however after it is final. The immediate peril of course is the prospect of a Seller being unwilling to budge if the Appraisal comes in lower than the Sale Price and the Buyer is put in the position of having to decide whether to bring cash to the table.
Pluses & Minuses- As far as impact on the Buyer, the upside is that the above scenario spurred by low inventory positively affects future value/appreciation of their property as well as the aforementioned immediate effect of the Closing Sale Price impacting the neighborhood's value. These things are almost always assured. On the less positive side, depending on what neighborhood this is occurring in, property values can rise to the degree that a large number of people are just priced out of the picture. This is called gentrification and usually relates to lower-priced areas becoming unrecognizable to those who live there and or would have normally wanted to live there. Obviously this is not the case in Lake Oswego which has historically been a generally higher-priced area on the outskirts of Portland, and/but there are areas of Lake Oswego that are wonderful, AND more affordable for many families that could be impacted as well.
So, that is what low inventory does  to the market. As far as how it is arrived at~ Essentially, the Inventory at any given time is calculated at how many months it will take to sell the existing homes on the market based on the current rate at which homes are selling. I used the formula espoused by Sapling to break out comparative Inventory for Lake Oswego.
If we compare just Lake Oswego and its inventory vs July 2019, it looks like this:
July 2019: 451 Active Listings divided by Sold & Pendings at 357 = 1.26 Months of Inventory.
July 2020: 311 Active Listings divided by Sold & Pendings at 384 = .809 Months of Inventory.
So, you can see how a large number of Buyers actively looking for houses and a limited number of properties for sale can affect the overall landscape of real estate in a given area. Looks like it might be time to sell if you've been on the fence?