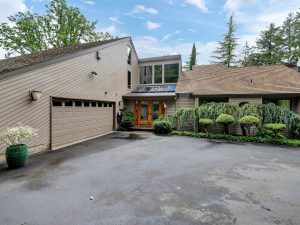 I am pretty excited to tell you about a new listing. Located just South of Lake Oswego in a rural area known as Stafford, this house sits on 30+ acres. 26075 SW Mountain Rd was built in 1977 and this is the first time it has ever been offered for sale. It says a lot about a house when it is enjoyed by the same family for 43 years.
The house has 6297 square feet that includes 5 bedrooms and 3.5 baths. A great room addition was ut on about 15 years ago that features a 21'x20′ gourmet kitchen. This kitchen has 2 ovens, 2 dishwashers, and 3 sinks. It's the sort of kitchen that avid cooks dream of. There are expansive windows that let in Southern light and look out across the land.
The land has 2 lots. 6.46 acres contains the house and a 90'x35′ barn. The second lot is 24.7 acres and it is approved for 2 building sights. There are extensive raised beds, a fruit orchard, and gorgeous landscaping. The 24.7 acres was used for many years as a deciduous tree nursery. It has a well that has not been tapped as well as drainage tiles.
The asking price for this gorgeous property is $3,500,000. If you have questions or would like to see this property, please give Dianne a call at 503-803-6298.
AS always, thanks for reading the blotter!