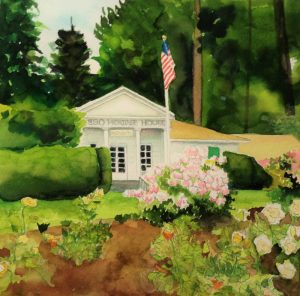 I am a big fan of history and I really appreciate it when it is well preserved and appreciated. Lake Oswego history is quite fascinating. The town was originally founded as a result of the discovery of iron ore in hills where Iron Mountain Drive now runs. The ore was brought down out of the mountain, loaded onto barges and taken across the lake to the Willamette River where it was smelted into usable iron.
While LO never did actually become "the Pittsburgh of the West", it did get it's start as a company town that evolved into a vacation town for folks in Portland, and eventually into what it is today with a population of just under 40,000 people.
Preserving the history of the town is the focus of the Oswego Heritage Council. Located as 398 10th Street in downtown LO, the council is located in an elegant formal residence that houses a museum, meeting rooms and a formal garden. There is a permanent exhibit as well as rotating exhibits. Currently being shown is the Bickner and Woodward family collection of photographs from 1919-1921. The museum is open Monday, Tuesday, and Thursday from 10-3. It is free.
The council is a 501 (c)(3) non profit. It is financed by the efforts of the council itself. In keeping with it historic mission, these efforts are primarily well known and respected annual events that include a classic car and boat show in August and a home and garden tour in June.
The facility is also available for rent. It's suitable for meetings, luncheons, and small weddings.
As always, thanks for reading,
Dianne