Lake Oswego has 25 specific neighborhoods and today I am going to tell you about McVey-Southshore.
McVey-Southshore is not a very big area. It is bordered on the North by the Lake and Oswego Creek, on the East by Cornell Rd, on the South by Bergis Rd, and on the West by Oak Terrace and Park Academy. To my knowledge it is all single-family housing. I don't believe that there are either apartments or condos.
It is super convenient to downtown Lake Oswego. You can easily walk to the Lake Theater and several very nice restaurants. It's also walking distance to Wholefoods local market 365.
There are currently 18 active listings in the neighborhood. The least expensive is a single-level house with a 2 car garage. It was built in 1952 and has 3 bedrooms, 2 baths, and 1670 square feet for $549,900. The most expensive is a 1939 house that has been extensively updated. On the main lake, it has 7220 square feet with 5 bedrooms and 6.5 bathrooms. There's an elevator, a swimming pool, a 3-car garage, and a full guest house with its own kitchen. the asking price is $4,895,000.
There is a small commercial district in the neighborhood with a Starbucks, a Thai Restaurant, and several boutiques.
While technically just outside of the boundaries, there is also a very nice park with a playground and room to roam, Freepons Park.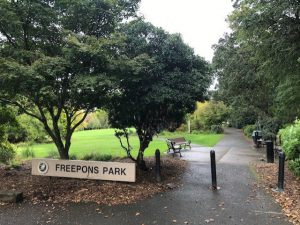 Lake Oswego has lots of options when you are shopping for a home. I think the word I would use to most describe McVey-Southshore is quiet. It's a quiet area of nice homes and values that range from mid-range to super high-end.
Please let Linda or I know if you have any questions. As always, we are here to help.
Dianne