One thing that always interested me about custom houses is the potential for them to have secret rooms, panic rooms, or underground bunkers. It isn't that I am paranoid of ever needing to use them, it is more so that the mysterious allure of them existing is something that intrigues my inner child. Books like: The Secret Garden, Alice in Wonderland, and even Anne Frank had a hidden passageway that were either critical or whimsical. In movies they where what bridged the gap between what is real and what is fantasy: Coraline, Pan's Labyrinth, and Sleeping Beauty.
In person I have only a few recollections of seeing thoroughly hidden secret rooms, one that was more-so just a tiny door which lead into a much larger room. And in girl scouts I had a troop mate that had a hidden reading nook in her house above her bedroom. Of course I visited the Winchester Mansion, which had secret rooms, secret stair cases, and a wild assortment of wacky architectural direction.
My friends know that I am a broker, and often times will send me links to custom houses where people have put forth the effort to make secret rooms. About nine times out of ten they are panic rooms (my friends and I are really into zombie games, so it is kind of a joke with us). But every now and then we stumble across hidden man caves. Where sports and games line the wall of a hidden room, and one entire side of the wall is a large flat-screen TV; of course designed for the discerning and incognito game enthusiast. The hidden reading nook is a popular one, where you climb a tiny staircase behind your bookshelf to a little cozy room next to a window.
In perspective you can really have a secret room for just about anything. The whole point to it being there is that is, for whatever reason, your personal little space.
So that is what I have to share with you this week. I hope you all are having some good holidays this time of year. Have fun and stay safe!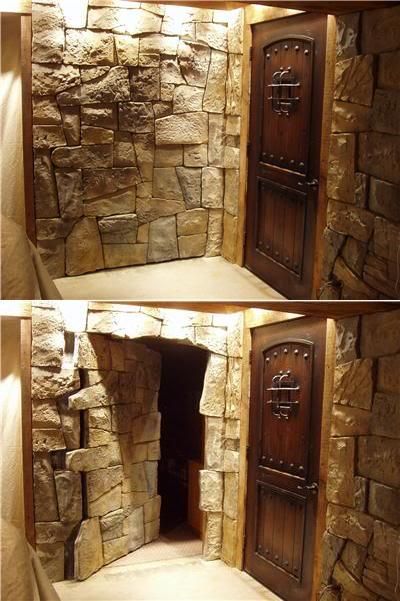 *disclamer* This photo does not belong to me.