With the bounty of summer upon us, it just got easier to eat farm fresh and local!
The Farmer's Market has begun!
Running Saturday's through October 11th, the market is located at Millennium
Plaza Park. You'll find a huge variety from the 80 vendors: fresh produce, artisan cheeses, bakery goods, jams and jellies, fresh seafood, the list goes on and on.
I recommend you come hungry and take advantage of the vendors selling freshly made meals. A Vietnamese Bistro, the most scrumptious omelets around, pizza, coffee, baked goods, it's a great place to find an amazing meal.
This market has a real sense of community. Besides eating and shopping, there is a kids corner, live entertainment from 10:30 to 12:30, and complimentary doggie daycare.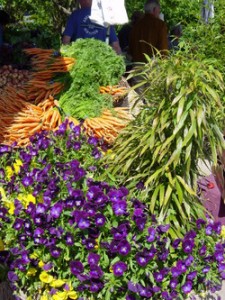 Fresh Produce Approved!
This last week the Lake Oswego City Council passed an ordinance that will allow fresh produce stands all over town. This was prompted by the closing of the Parson's Produce stand on Carmen Drive. After 25 years the stand was closed due to construction of a new shopping area. It left a huge loss in the community that is now going to be quickly filled.
Produce stands are now allowed in otherwise commercial zoned areas in a size up to 800 square feet. I predict that not only will Parson's quickly find a new location, but that other farm fresh groups will quickly set up shop as well.
This is fantastic! Strawberries, cherries, fresh corn, yum!
I am so looking forward to the summer months ahead,
Dianne