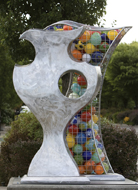 I really like Lake Oswego and thought I'd share with you my own top 10 list of things I enjoy about living here.
10. Walking. There are just so many great trails and walking paths. The Iron Mountain Trail, the bike path around the lake, all of the many trails in Mt. Park, the trails on Cook's Butte, they keep me entertained and enjoying my walking habit.
9. The patio at Riccardo's. It is a little bit of Italy to be enjoyed right here at home. Riccardo has a true Italian menu with a wonderful wine list, but the high-light for me is the back patio. A soothing water feature and wonderful flowers are to be enjoyed, but I think I almost like it better on a cold and rainy day. The over-hangs of the perimeter are generous enough to keep you dry, and the space heaters keep you warm. Cozy and yummy.
8. Breakfast out. I have 3 favorite breakfast spots: St. Honore, La Provence, and Babica Hen. I can't say which I like best, but they all keep me coming back for more.
7. Summer concerts. I did quite a bit of blogging about them last summer. The point I want to make is go out and do it. A warm evening, a picnic dinner, and free music, it's the good life.
6. Community School. Schools are a big part of what motivates people to move to Lake Oswego. It's why I moved here. But there is an entire extra layer to what is available. Community school offers extra programs for kids seeking more. It may be more art, more sports, more language skills, more of what youngsters want to explore. It's available at community school. I highly recommend the driver's ed program.
5. Convenience. Lake Oswego is simply a convenient place to live. You are 15 minutes from downtown Portland, 30 minutes from the airport, 10 minutes for a huge shopping center (Washington Square), 3 minutes from a lifestyle mall (Bridgeport Village), it's amazing. Within a 3 mile radius of my house I have 4 Starbuck's and 5 grocery stores. Yet I live on a huge treed lot in a quiet neighborhood. Yep, my little slice of heaven.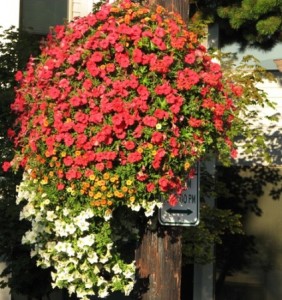 4. The Arts Council of Lake Oswego. Responsible for the Gallery Without Walls, the Art Literacy Program in the elementary schools, and the Lake Oswego Festival of the Arts, the Arts Council of Lake Oswego brings art front and center into our lives. For me, art makes life sweet and I want it in my life.
3. The flowers. Lake Oswego won the America in Bloom competition several years ago. It probably helped that one of the City's former mayors owned a garden center. The hanging baskets in the summer are like fire works during the day. There is pretty much no public median that doesn't have a planted bed. Even in the winter: there are pansies and decorative kale in abundance. It's beautiful.
2. A wholesome place to raise a family. No not everyone in LO has kids, but if you do, it is a wonderful and supportive community. My kids got so much encouragement from this community. How refreshing that it's cool to get good grades! It's a pretty darn nice place to grow up. I wanted my kids to be safe riding their bikes and to have positive influences in their lives. I found it for them here in LO.
1. Friendly people. I moved here for the schools, but was completely not expecting how easy it is to make friends. I think that's because it really is a small town. It's easy to get involved and to have an impact.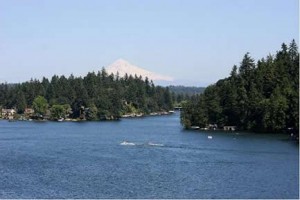 Honerable Mentions:
Lakewood Theater
Luscher Farm
The Dog Park
Christmas Tree Lighting with Santa
4th of July Parade
4th of July pancake breakfast
Boy Scouts and Girl Scouts
La Vang Vietnamese Restaurant
Pine Shed Barbeque
George Roger's Park
Zupan's heated lounge
Seeing the Lake
Seeing the Mountain
There you have it! I hope I've given you some good ideas of what to expect and what to enjoy in LO.
Dianne