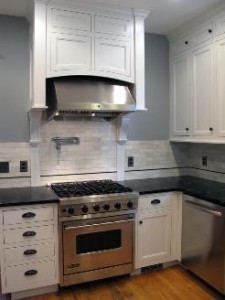 It's spring and we are heading into the season when home owners are taking on home projects. This is a great time of year to clean up the yard, touch up the paint, and perhaps consider doing some remodeling. I thought I'd share some of my thoughts so that not only will your remodeling bring you additional pleasure as you live in your home, but it may also help you when it comes time to sell.
Best bang for the buck
Without question the best return on the investment in remodeling is the front door. Time and again when the National Association of Realtors puts out their annual rate of return on investment, the front door holds the top position. In fact, it is the only area of the home where you can gain more than the cost of the remodel.
Consider a new door if the door you currently have is beat up or out of character to the house. If it's a nice door that needs new life, consider paint and new hardware. Also, pay attention to the weather stripping and the threshold. Clean it, paint it, repair it.
As a real estate agent, I know the front door makes the first impression. As I take the time to open the lockbox and unlock the door, my client is looking about and deciding what they think. If they like what they see, they enter the house looking to re-enforce that good impression. If they don't like what they see, they enter the house ready to criticize.
Kitchen and Baths are the King and the Queen
Buyers today want large, functional kitchens and baths, particularly master baths, that meet contemporary needs. Especially when you get up into higher-end homes, buyers have expectations that the kitchen will have plenty of cabinets, lots of counter tops, and perhaps a pantry. The master bath should have a walk-in shower, a bathtub, double sinks, and perhaps a separate water closet for the toilet.
When showing property in the $600,000+ range, if it does not have the sort of kitchen and baths that I am describing, the house just is not going to sell at top value. Buyers are going to look at the cost to purchase and then calculate the cost to remodel. They will base their offer on that total sum. There is an exception to this broad opinion. Houses with unique features such as waterfront, views, or lush lots are exempt from this. However, it is my opinion that for your standard house on your standard lot, there is a $100,000 difference in value when a house has been properly updated.
Keep the remodeling in character to the house
While it is tempting to gut the house and put in 2013 everything, it may just shoot you in the foot. What is in fashion today will be out of fashion tomorrow. If you intend to sell soon, this year or next, you are probably OK going with 2013 everything because it is shiney and new and popular today. But if you are doing remodeling and not intending to sell immediately, please consult a designer and get advice on sticking with classic elements that will not be be based on fads.
There is nothing worse than a 1940's house with a 1980s update. There is a fine line between remodeling and destroying. If your house has classic elements such as built-ins, moldings, brick, flagstones and fine touches from it's original construction, those elements will retain value over time. Perhaps those elements can be salvaged and re-used? Be creative. Get good professional advice from designers and architects.
Most bang for the buck #2
Paint and clean, there is nothing cheaper that goes so far. Declutter, sort out closets, have a garage sale or donate that clutter to a good charity. You will find enjoyment in living in your house when it is fresh and clean, and you will have taken a big step towards having it re-sale ready.
This particular post is based upon my personal experience and opinion. I hope you find it helpful. I hope you can get yourself going and enjoy the rewards of taking good care of your home.
Dianne