Today's editorial post is going to be a bit of a potpouri of information.  There were just so many nice tidbits, I couldn't seem to pick just one.
Observations On Current Inventory
Last February I ran the break down of the Inventory in Lake Oswego.  At that time there were 418 detached homes for sale.  I think my biggest concern was that of those homes 136 were priced at $1,000,000 or more.  That is a lot of high-end homes.  And that seems to be the slowest part of the market that is selling.  What's it look like today?  Not much has changed.  While sales have picked up a bit, the number of new listings coming onto the market is keeping the inventory from diminishing.  Here is today's breakdown:
Homes priced $100,000-$199,000, 1
Homes priced $200,000-$299,000, 19
Homes priced $300,000-$399,000, 46
Homes priced $400,000-$499,000, 54
Homes priced $500,000-$599,000, 51
Homes priced $600,000-$699,000, 38
Homes priced $700,000-$799,000, 35
Homes priced $800,000-$899,000, 30
Homes priced $900,000-$999,000, 31
Homes priced $1,000,000+, 135
That is a total inventory of detached homes of 440 with 135 priced at over $1,000,000.  Probably the most interesting observation that I see is that while we have 22 more homes for sale, the $1,000,000+ is about the same.  Perhaps people listing their homes this spring are being a bit more realistic and not shooting for the million dollar sales price?  At any rate, there are still way more homes over a million than the market activity will support.  In the last six months 10 homes over $1,000,000 have sold and 11 have gone pending.  At this rate, it will take a little over 3 years to sell all of the high-end inventory.
A Glimmer of Hope
The Standard and Poor's Case-Shiller Home Price Index was recently released.    In the 20-city year-over-year averages the Portland area managed to fair better than most.  The average 12-month loss of home values was 18%, while Portland's was 16%, the eighth best of the report.  The best fairing market was Denver with a loss of just 4.9%.  The worst was Phoenix with a loss of 35.3% (ouch!)
My personal observation is that things have picked up quite a bit.  My listings are getting lots of showings and also receiving offers.  It could simply be the normal up-tick that happens with spring and summer, but it could also be a bit of much-needed stability.  And even if the market is not necessarily trending up, it does seem to me that it is not getting worse.
Always get a sewer scope!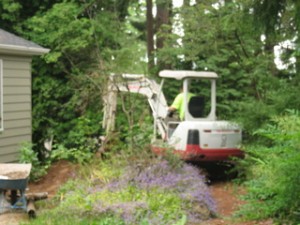 This is a photo that you really never want to see, but when this sort of thing happens, it is soooooo much better to have it happen before the sale than after.  This photo was taken of a home that I have currently got in escrow.  The older home was recently remodeled, including a new sewer line from the house to the street.  That should be enough and there's no need for a sewer scope, right?  NOT!  In the course of the home inspection the buyer did have a sewer scope and a chunk of concrete was found to be blocking  the line.  In the course of the remodel, a stray piece of concrete had somehow found its way into the line.  Who would have known without the sewer scope?  And how irritating would it have been to move into a gorgeous home that was fully remodeled just to have the sewer back up immediately?  This is a good lesson for one and all.  Always get a sewer scope!
LO vs Sellwood
It's a bit of a habit of mine to compare affordable housing in Lake Oswego vs the popular neighborhood in SE Porltand, Sellwood.  I like to do this for two reasons.  First, I've lived in both areas and just have a general curiosity.  Second, I think LO is often overlooked by buyers.  There is just a general assumption that LO is full of million dollar mansions and therefore out of the price range of people seeking an affordable home.  My definition of affordable is $350,000 or less, and I am only comparing detached homes and not including condos.  When I first did this in April of 2008, there were 20 houses in LO and 18 in Sellwood price at $350,000 or less.  Today the number is 44 in LO and 25 is Sellwood.  So not only does Lake Oswego continue to offer more affordable homes than Sellwood, but the number has increased from a difference of 2 more to a difference of 19 more.  In Sellwood the least expensive home currently for sale is 608 square feet, 2 bedrooms and 1 bath, built in 1924.  In Lake Oswego the least expensive home currently for sale is 780 square feet, 2 bedrooms and 1 bath, built in 1944.  So if you are looking for affordable, sure check out SE Portland, but don't rule out Lake Oswego.  You have options here as well.
I can not let the week go by without wishing everyone a safe and happy 4th of July!