In Lake Oswego we are enjoying the warmth of summertime as much as any other Oregon residents, and maybe a little more in some ways! Here, we are very lucky to have some great summertime swimming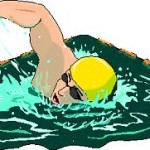 options… you know, lake and all : ) It's true, most of the lake is privately owned and not generally accessible to the public, but Lake Oswego has two public swim parks on the lake, and access on the Willamette River as well as a smattering of neighborhood pools that are membership-based, and a pool at Lake Oswego High School that is open to all.
Here is a breakdown of the main swimming options for Lake Oswego residents this summer:
• Lake Oswego Swim Park – 250 Ridgeway Road – Operated by L.O. Parks & Recreation – Open to Lake Oswego residents July through August, noon – 6PM daily (weather permitting) – Lifeguards on duty – No charge for admission.
• Lake Grove Swim Park – 3900 Lakeview Blvd – Operated by the Lake Oswego School District – Open June through Labor Day – For information on Entry Requirements call 503 635 0355, or 503 534 2000.
• Lake Oswego School District Swim Pool – 2400 Hazel Road (Lake Oswego High School Campus) – For complete schedule including information on Open Swim as well as lessons: lap swim, Red Cross programs, synchro swim, diving, aerobics, etc., call 503 534 2330.
If you just LOVE swimming, and you or your children want to get even more involved, check out the Lake Oswego Swim Club. It operates from the Lake Oswego School District Pool at Lake Oswego High School. You may contact Dan Gipe at gipes@earthlink.net or 503-244-7349 for more information. Visit: www.lakeoswegoswimclub.org for details.
The Charlie S. Brown Water Sports Center (WSC) is located on the scenic Willamette River in Roehr Park. It is owned by the City of Lake Oswego and operated by Lake Oswego Community Rowing. Rowing and sculling classes for both adults and youth are offered. Obtain more information about hours, fees, classes and requirements at: http://www.ci.oswego.or.us/parksrec/WSC.HTM
So… stay cool. Have fun. Investigate these options as you enjoy summertime in Lake Oswego!