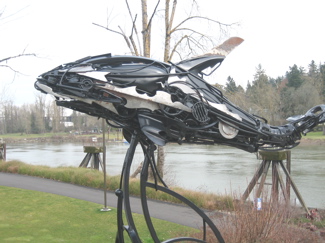 Yes, our blog has an unusual name. It's based upon a local phenomenon that we'd like to help you to understand.
Lake Oswego is a small town and has a very small town personality. There is a local newspaper that is widely read called the Lake Oswego Review.
Being a small town, this paper carries lots of local stories. It is great fun to see photos of and to read articles about people and places that you know. There are weekly stories about schools, restaurants, local politics, special people, and just a nice wide variety of community news. If you subscribe to the paper, it is delivered by mail every Thursday.
There is one column in the paper each Thursday that is particularly interesting and that is the Blotter. It is a published run down of all police activity for the preceding week. And we do mean ALL activity. The Lake Oswego police department has a 100% response policy. That means that if you call 911 to get police, you will get a patrol car responding to your home. One of the things that Lake Oswego DOES NOT have is a reputation for crime. There just simply isn't much of it. So the Blotter tends to have numerous accounts of cats in trees, minor disturbances, and domestic confusion. It is written with a certain wry wit that is both amusing and entertaining. Here are some actual prior entries:
A resident of Oswego Pointe reported the mysterious draining of his fish tank. He found no puddle, no signs of forced entry, and his fish scattered around the bottom of the tank.
A resident of the Parkridge I apartments on Greenridge Drive says he can't go on to his back porch for fear of being attacked by a vicious cat.
An "unknown hairy thing" found stuffed in a trash can at New Waluga Park and described as "heavy" was determined to be a stuffed animal.
As you can see, this is a great source of amusement and entertainment. It is a truly local phenomenon. And taken to its full blossom, a book was inspired by the Blotter. Written by Elisa Minor Rust, "The Prisoner Pear" was published in 2005.
So when the time came to name our blog, we found that the idea of the Blotter had a local appeal and somewhat defined what we are trying to achieve. We want the Property Blotter to be locally unique, reflective of what is going on in our community, and, hopefully, somewhat entertaining.